Explore The Top Beaches On The Gold Coast And Northern NSW With Your Hire Car
There are close to 11 000 beaches in Australia, each with its own unique appeal and attractions. With so many to choose from, it can leave even local residents overwhelmed at the sheer amount of coastline available for exploration. That said, there are a number of options available both to residents and visitors to Australia, and if you think that beach hopping is solely the pursuit of tourists, you could not be more mistaken. In fact, all visitors and locals are just a 'car hire and a Gold Coast Airport flight' away from exploring what our very own backyard has to offer in terms of sun, sand and surf.
Hiring a car as you land at the Gold Coast airport is a good idea for so many reasons, least of which is the convenience and freedom you'll enjoy as you hop from beach to beach and the money you'll save when you find the right deal for you and your family. But just where are you going to go with your freedom and extra cash?
We've put together a little guide to get you started on your adventures, starting with the beaches along the North of New South Wales, transitioning into the Gold Coast. You'll find that playing tourist on Australia's shores can be just as fun as travelling abroad – and that exploring our coastline can make for an affordable and flexible holiday for all.
LET'S START IN NEW SOUTH WALES…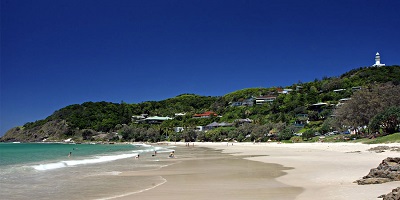 With the Gold Coast Airport straddling both Queensland and New South Wales, there is no more convenient place to start your beach tour than in Byron Bay, which is less than an hour's drive from the airport. Ocean kayaking in Cape Byron's Marine National Park is sure to be a highlight of your visit to this area – an activity suitable to any fitness level and one that will see you getting up close to turtles, dolphins and whales. However, if you prefer to stay on the shore, you can spot these creatures from the Byron Bay Lighthouse instead, and once you've worked up an appetite there are dozens of cafes and restaurants in the area, offering everything from seafood to vegetarian/gluten free options.
TWEED COAST…
From there, you can move on to Point Danger. On a good day, you can see all the way down to Byron Bay and up to Surfer's Paradise while overlooking the Snapper Superbank (home to one of the longest wave rides on earth) and Duranbah Beach. It's just a few minutes away from Rainbow Bay, which is a great beach to swim in, popular with families as it's patrolled all year around and is sheltered from extreme swells since it's so close to the shore. If you ever wanted to try your hand at surfing, this beginner friendly shoreline is a great place to start; with surfing equipment rentals on virtually every corner.
SURFER'S PARADISE…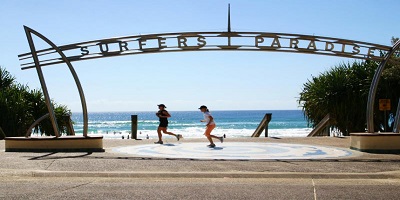 When it comes to Surfer's Paradise, the name says it all. With a long and sprawling foreshore, you can drive, bike, walk or skate around to your heart's content. If you want to explore the water, skip the usual boating tours and take an eccentric Aquaduck tour or the exhilarating Jetboat Extreme instead. If retail therapy is your thing, take a stroll through the Surfers Paradise Beachfront Market, which is held every Wednesday, Friday and Sunday night at the foreshore. It's also home to two of the three 7D Cinemas in Australia. For something the entire family can enjoy, why not give the Surfer's Coaster experience a go and be simulated by the beachside roller coaster?
BURLEIGH HEADS…
Lastly, if you want to visit an area before it hits the big time, make sure you visit Burleigh Heads. This region is less famous than its Gold Coast counterparts, but boasts a relaxed, village-like atmosphere without the traffic that dominates more popular beach spots. Here, the beauty of the area's freshwater attractions rival that of the ocean, so why not enjoy both at once with a sightseeing cruise? Explore the Gold Coast Hinterland with its wineries, rivers and waterfalls and then hit the area from another angle to enjoy its oceanic splendour. You can also explore the heritage listed Burleigh Head's National Park – a nature reserve replete with wildlife and walking trails overlooking and leading to nearby beaches…
If you're flying into the Gold Coast this holiday season and planning on cutting the trail that we've laid out above, then take it from us: there are few more hassle-free and affordable ways of seeing the best beaches that the Gold Coast and Northern NSW have to offer than in a hire car from one of Australia's premiere car rental businesses at the Gold Coast airport.
And when you choose Lewis Auto hire for your hire car on the Gold Coast, you're putting your trust in a local, family owned business who offer competitive prices and high levels of customer service as our primary goal. A hire car from us will make your holiday more cost effective and will allow you to enjoy much more freedom to explore and travel to any beach you can imagine in a safe and reliable vehicle that won't let you down.